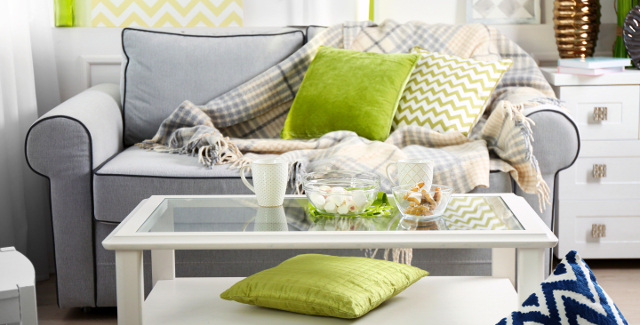 As everyone comes out of winter hibernation and all the hope of spring sets in, we often focus our attention on freshening up our homes. Spring cleaning is obviously the place to start, but after a good scrub, how can you freshen up your space and make it feel new without breaking the bank?
Hang a picture, move your pictures around, or repaint the frames
Paint one wall, a ceiling or a door in a bold color
Bring some green indoors with a new potted plant or two
After you've cleaned your windows inside and out, opt for new curtains in your favorite room
Reorganize your bookshelves by color to make them feel less cluttered
Rearrange the furniture in your living room or bedroom – you'll be surprised at the different ways a room can lay out with the same furniture
Tackle a problem area with an organizational system in mind to keep clutter to a minimum – create a place for everything and stick to it
Add a new sofa blanket, some throw pillows, tea towels or other new textiles in your favorite color to brighten a room
You won't need to necessarily buy new furniture or tear up your floors to easily freshen up your space this spring. You can make simple changes here and there and put a smile on your face in the process.